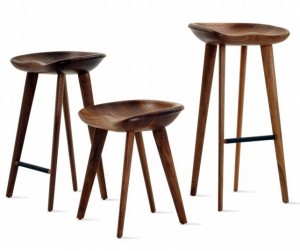 New to the Design Within Reach catalog is the Tractor Stool Collection made from top-grade American walnut and inspired by old-timey tractor seats.
I love the mixture of straight lines and subtle curved seat carved out of a block of black walnut. The finish looks supremely natural and will likely age very well. In the two taller versions the footrest is covered in black leather.
I am tempted to give this type of wood shaping a try in my workshop, but it looks like alot of work to get the seat curved in the right places. And the pressure to get it right would be significant because you know a block of nice wood like that would not be cheap.
As much as I love these, I will not be buying them for my home. The price is $1130 for the short one and it goes up as the stool gets taller. Best I can do is maybe to try it for myself with a lesser species of wood.