Built-in Shelves Finished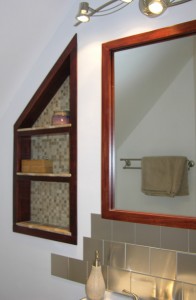 Finished the built-in shelves a while ago but forgot to post a pic and details since last post on the process. [The trouble with digital media storage is that it is easy to forget what pictures you have on the card.]
I framed the exterior of the shelves with stained ¼" x 2″ poplar lumber purchased at Lowes. The stain was the same red hickory used on the mirror frame followed by sealing with satin polyurethane. Cutting the angles was a bit difficult but the obscurities of my college trig class finally came in handy.
The back-splash is an easy to use product from Improvements (#337192, $27)—aluminum metal wall tiles. They are advertised as "will not crack, chip, or stain" and easy to install. The later—I can confirm—installation was so simple!
Each box of tiles contains 48 4 x 4 tiles and double adhesive foam for affixing  the tiles. The tiles come in almond, aluminum, black, white, chrome or copper and in triangle shaped to spice up your design.