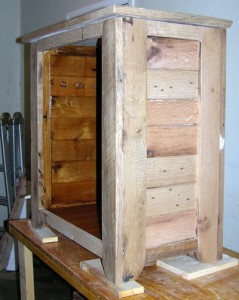 With the deadline looming, I have been working like crazy on the cabinet for the Birmingham Symphony Decorator Showhouse. This weekend I got everything assembled except the door. I even started to put on the finish before I remembered to take more pictures. I had already applied stain (Olde Maple) to the interior of the cabinet in this picture.
At first I wasn't too sure about the final result, but after covering the entire piece with one coat, I am very pleased. The finish looks very natural but has an aged feeling to it that compliments the origin (barn timbers) and rustic character of the raw wood. I have not decided about a second coat. I am leaning toward a coat of paste wax.
What remains is to mount the door and, if possible, apply some fall peeled wood accents to the door. I had originally thought I would trim out the top with  the peeled wood, but it is very difficult to get straight cuts on naturally curved wood without a band saw. That may be my next purchase. Applying some accents may or may not work out. More on that later.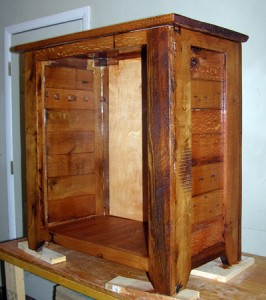 The compound miter saw came in handy on this project and I finally laid to rest my Porter Cable orbital sander. It died after a very useful and productive life. I replaced it with a Black and Decker Palm Grip Sander after trying out the newer model of the Porter Cable  sander. Did not care for it and returned it the same day. The B&D is very nice and feels great in the hands due some gel inserts in the multiple handles. Bonus: It was also on sale for only $34. The PC model I returned was $59. Gotta love that.