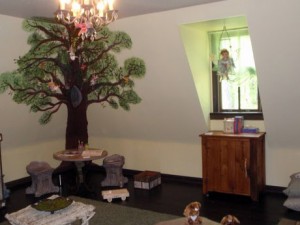 Delivered cabinet to Birmingham Symphony Decorator Showhouse today.  Did not get to see the entire house, but the children's room is very fun and well done. The cabinet fit in perfectly and the interior designer (Ginny Aday Interiors) in charge of the commission was pleased. Of course, I forgot my camera, but Ginny took this picture at the patron's party and sent it to me. I heard that B'ham Magazine will be doing a shoot so will be on the lookout for their coverage.
Another photographer was at the house. I was very pleased to see my friend Jean Allsopp there. Her photos always showcase a house well. I also met designer Marjorie Johnston who decorated the foyer.
Showhouse opens April 24 for touring.
Monday – Saturday 10am – 3pm,  Sunday 1pm – 5pm. Tickets are $20. For more info, click here.