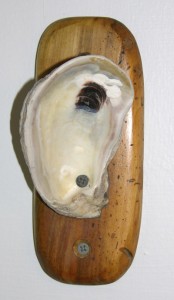 This was a quick project that I finally finished. I had the oyster shell sitting around for a couple of years and had planned making this since I found it in my travels. The wood was a leftover from a king-size bed I built for a friend out of Indiana poplar.
I love that wood! It has so much character and interest, in its coloring,  the grain and from the insects that had a party there during storage.
Anyone could make this with limited tools. You would need a handsaw or scrap wood already the size you wanted  for the mounting plate, a drill, a shell, sandpaper, three screws, some epoxy, and wood finish.
The limiting steps in this are drilling the whole in the shell—I used a Dremel tool—but an electric drill and some patience will do the trick. The drill bit will get hot—pause periodically to let it cool.
Try to find a shell of sufficient length with a flattened edge that will sit flush against the mounting plate. You can sand this flat edge to make it more even. Depending on the shell, you may want to sand the edges a bit to take some of the sharpness down or get rid of barnacles. The shell is calcium carbonate—the smell may remind you of the dentist.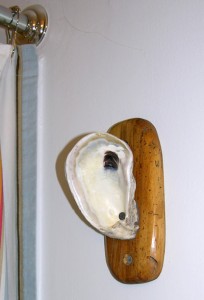 Shaping the mounting plate took some patience too, but that is the beauty of woodworking.  Once it is shaped just like you like it, place the shell, measure and mark the spots for the two mounting screws and the through the shell screw. Drill pilot holes for the mounting and through screws and  countersinks for the mounting screws.
You can finish the mounting plate with about anything you want. Paint it if the wood is not all that interesting or use a stain or  a natural finish. I used some left over teak oil to penetrate the wood and then followed it up with a coat of paste wax applied with a steel wool pad. I think this is a supremely natural, but protective finish.
Make sure you choose a screw to mount the shell that is not so long it will stick out the other side of the mounting plate. Secure the shell with a small amount of epoxy, like JB Weld, and a wood screw.  Be careful not to over tighten and crack the shell. Let this dry overnight.
That is it. It is ready to mount wherever you choose. I used some self-drilling dry wall anchors . If you would like some measurements, let me know and I will post them. But really it is up to you. If you have more than one shell, you could mount them in a series on a wider piece of wood.