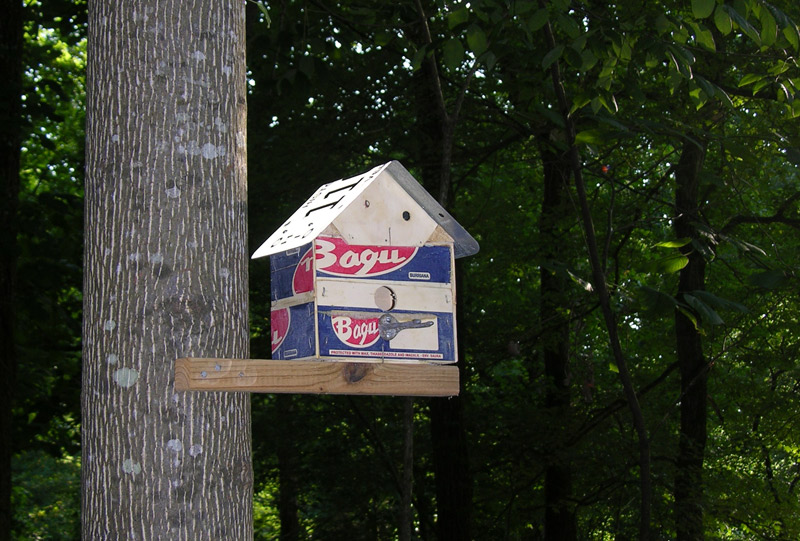 Clementines make winter seem shorter and they are very tasty. I go through a bunch of them when they are in season. So, I had several of clementine crates sitting around that I could not throw away. What to do with them? Hmmmm.
A birdhouse, yeah, that's it. Can't say if a house made out of these light wood crates will last in the weather, but it is worth a try. With a sturdy roof made out of an old license plate, they just might.
I used a power saw to cut the crates because I have one, but a hand saw or even an Exacto knife might work to cut the thin plywood. The corner pillar pieces are used at length, so there is no cutting required. An electric drill is also helpful in this project.
The slideshow below shows the major steps to assembling a birdhouse from these raw materials. If you have questions, just leave a comment or email me.
On the question of what to use for a perch: it is up to you. I used an old cabinet pull on one example and a coat hanger on the one shown in the slideshow. This is where you can get creative. Use whatever you like. I would suggest you keep it light because the plywood of the crates is thin.
To finish or not to finish: I used a single coat of polyurethane finish on the outside of this birdhouse because I had some leftover and I thought it might help weatherize the structure a bit. For your creation, it is your call.
Finally, if you should try to do this at home, I would love to see pictures of your creations. Send me a picture or connect with me on Pinterest, Facebook, or Twitter to share.